CAF News Release
By: a Canadian Armed Forces member on Operation CROCODILE
In the Democratic Republic of Congo (DRC), a country where the most grievous human rights violations are a daily occurrence, it is hard for anyone to feel optimistic about the future. Yet amidst all of the poverty, there still exist some beacons of hope. The members of Operation CROCODILE recently had the opportunity to take some time out of their busy schedules to extend a small gesture of love on behalf of generous Canadian donors, to one of these beacons, the Tulizeni Orphanage in Goma.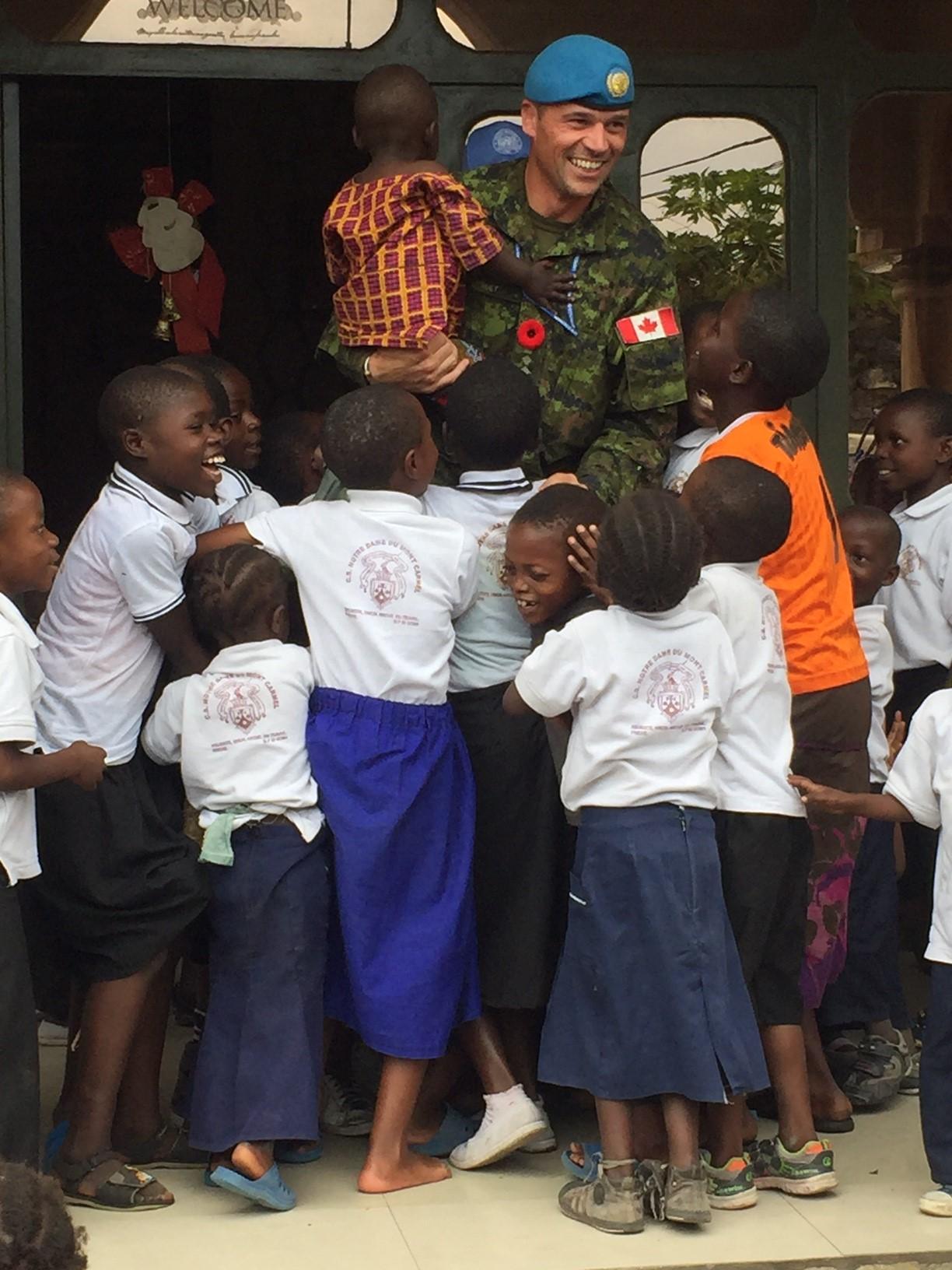 As we arrived at the orphanage, we pulled past the guards into a walled compound no larger than a typical suburban property in Canada. We were greeted by a sea of 86 small African children who were singing, laughing, and dancing. They were extremely excited by our arrival and even chanted, "Can-a-da", over and over again. Some of the smallest and cutest among them would approach and look up longingly with their little arms extended in hopes that they might get picked up and hugged in loving affection, while others would come and hug our legs. Picking a little one up was a touching moment for me as it made me think of my own toddler at home who is truly blessed to have two parents who love her, and will never have to experience the things that these orphans have had to endure.
While this was my first time at the orphanage, it was not for many of my fellow Canadians. There is a Canadian United Nations Volunteer, Gabrielle Biron Hudon from Quebec City, who comes out every weekend to volunteer at the orphanage, and several of the other task force members, who make the time to visit once a month to play with the kids. Sometimes they treat the kids and bring out a laptop and borrow a projector from work to show the kids a movie. Other times they bring candies or toys donated either from their own pockets, or from other generous Canadians. You could see in the children's eyes and those of the staff, how much they appreciated having us visit, this gesture of compassion and generosity.
Sister Georgette Marjorie Thsibang, the orphanage manager, took us on a tour of the facility. As we took the tour of the orphanage, I noticed the very cramped living conditions of the 86 kids currently residing there. There were a few bedrooms filled with many beds. The first one we visited had three bunk beds packed into a 10'x10' room. The smallest kids sleep here, five to a bed, which makes for a room that houses 30 kids. We also visited a larger room, which was also packed with beds. We were told this was the room where the older girls (13-17) who had been raped, lived with their babies. My heart sank as I looked at the number of beds that were crammed into the room. To add to this, when I heard about all of the expenses I was shocked. It costs 195 USD per kid each year to go to school. Even just the operating cost for food is another 100 USD per day to feed the orphans a modest amount of food. I couldn't help but think that this place could really use more support and funding. They mentioned that they recently had to return several kids to the internally displaced persons (IDP) camp because they just couldn't afford to keep them and provide for them anymore. All of this comes in the midst of trying to build a new orphanage just outside of town; however, while the land has been purchased, the project is a long ways off. The project hopes to increase their capacity, decrease the cost of schooling by having an onsite school, and includes living quarters for the staff.
On this day, after the singing had settled down and the tour completed, the Operation CROCODILE Task Force Commander, Colonel Pierre "Pete" Huet, on behalf of a group of Canadian donors, and alongside the members of Operation CROCODILE, presented a large cheque donation of 2783 USD (4000 CAD before conversion) to the Tulizeni Orphanage to assist with the tuition expenses. The excitement of the kids and gratitude of the staff radiated and, not surprisingly, triggered the next round of singing and excitement. There was so much energy that the kids swarmed around Colonel Huet (pictured) and hilariously attempted to pick him up and put him on their shoulders to carry him around as they cheered. After the handshaking and the many gestures of thanks, they saw us off with big smiles and waves as we departed to get back to our primary task of combatting armed groups and protecting civilians in the DRC.