By: Isa Baza,
Guam News
KUAM.com-KUAM News: On Air. Online. On Demand.
The US military is investigating a Canadian helicopter that flew low over Guam's tourism center on Sunday, in a flight that one Federal Aviation Administration official says does not adhere to standard regulations.
Hundreds of people were sprawled along Tumon Bay on Sunday morning. The United Airlines Guam Marathon - which boasted over 4,000 runners - had just come to a close when a RCN CH-124 Sea King helicopter flew just 50 feet above the shoreline.
Swimmers could be seen
below the chopper which was
spotted both in Tumon and Ritidian
just before 11am.
According to military officials, the helicopter did not belong to the local military or the National Guard. Joint Region Marianas spokesperson Lieutenant Tim Gorman later confirmed it belonged to the Royal Canadian Navy. He said the chopper had taken off from HMCS Winnipeg, one of two Royal Canadian Navy Destroyers currently visiting Naval Base Guam, and was en route to Andersen Air Force Base.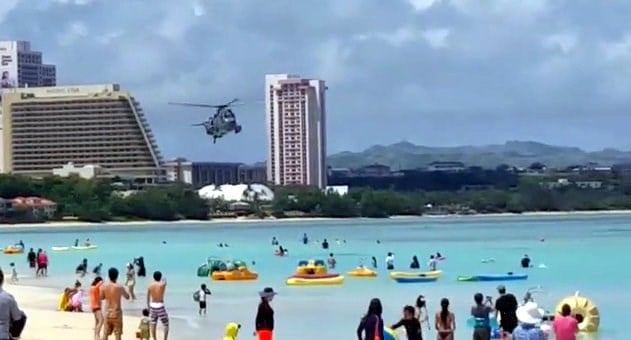 Lieutenant Gorman said, "Although the helicopter was in FAA approved airspace, we have reminded our partners to be good neighbors and to avoid disturbing heavily-populated areas."
A representative from the FAA - Agana Tower air traffic control manager Stephen Carter - said because he was not aware of the specific circumstances surrounding this incident, he could not conclude whether or not it violated FAA regulations. However, after reviewing the video he did confirm that standard regulations dictate that a helicopter should not be flying over highly-congested areas at an altitude below 500 feet, adding the regulation is in place to ensure safety in case an aircraft needs to make an emergency landing.
Lieutenant Gorman confirmed the incident is under investigation.