By: Marc Montgonmery,
CBCNews

Women in Force Program
The Canadian Forces are eager to increase the number of women in the military.
There is a perception that women generally are intimidated by the idea of a military career so a new pilot project seeks to give them short information and "hands on" experiences with the military. The idea is to help dispel myths, get a sense of the realities and the many opportunities, and possibly inspire them to join.
LCol Raby is Deputy Commander, Canadian Forces Recruiting Group, and Canadian Armed Forces' Head of the Women Recruiting Tiger Team.
The new pilot programme is called "Women in Force".
It's a reaction to a survey showing women really don't know much about opportunities in the military, and what they do know often consists of myths and inaccuracies.
LCol Raby points out that one of the first myths about women in the Canadian Forces is that women's roles are limited.
She says every career position of the one hundred or so available, is open to women including such things as front line infantry, or fighter pilot.
Participants in the 10-day Women in Force programme will get to experience a bit of hands on training with weapons and equipment. © Corporal Neil Clarkson, 14 AMS Wing Imaging GD2015-0285-003
She also points out that the military would like to encourage women in any role from engineers, to lawyers, pilots to doctors, dentists, nurses, from mechanics to firefighters, you name it, all are open to women and in the army, the air force, and the navy.

The newly conceived pilot programme involves two options for those women interested. The first option is a three-day session which takes place at Base Borden in Ontario for English speakers, and St Jean sur Richelieu in Quebec for Francophones.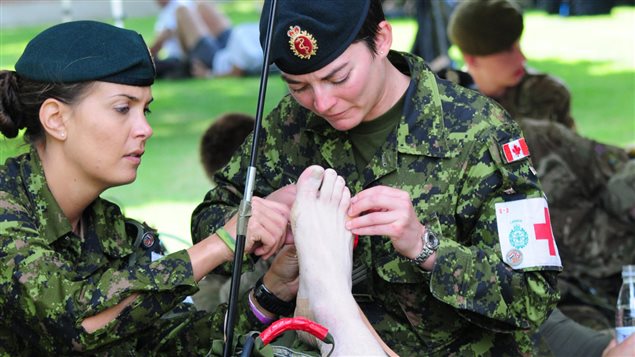 A variety of opportunities and training in the medical field are available in the CF. Here, Master Corporal Natasha Lauzon of 1 Canadian Field Hospital in Petawawa, Ontario, and Sergeant Valerie Charbonneau, a medic with 55 Field Ambulance in Quebec City, Quebec, tend to the foot of a Canadian Armed Forces Nijmegen marching team member, during the Nijmegen Marches in the Netherlands, on July 23, 2015. © WO Jerry Kean, 5 Cdn Div Public Affairs
These sessions involve a lot of talking and meeting with those already involved in various trades with the military. They will learn about the realities and requirements of military life, and about the benefits and opportunities of which there are many.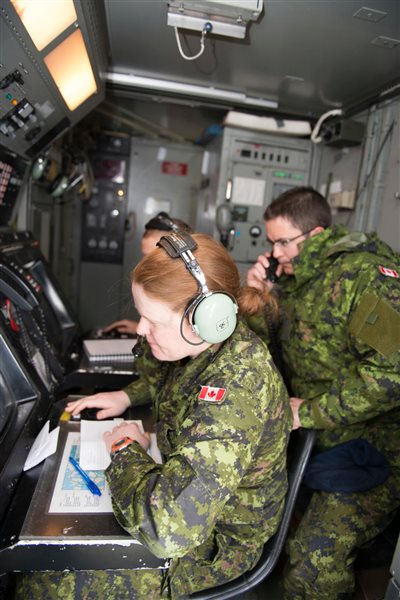 Captain Meghan McCready (left), Aerospace Controller with 12 Radar Squadron, watches the control radar screen while Master Corporal Patrick Flynn (right), Air Control Operator with 12 Radar Squadron, relays the information during Exercise AMALGAM DART 15-2 in Resolute Bay, Nunavut on May 31, 2015. © Corporal Patrick Drouin, 4 Wing Imaging
A more involved ten-day visit is available in August which offers a more "hands-on" approach getting to experience various pieces of equipment including weapons. Another myth that most women have is that the physical fitness requirements would eliminate them. The ten-day experience allows them to experience physical fitness training and attempt the physical test for themselves.
The experience also gives a chance for one-on-one connection with women and men now in a variety of trades to learn about them first hand.
LCol Raby also points out that an officer training programme still exists in Canada whereby candidates have their university education paid for, and then sign up (and still get paid!) to serve in their degreed trade for a period of at least five years. Experience has shown that a high percentage choose to continue with the Canadian Forces after that time.
However, this pilot programme is to give a basic familiarization to any adult woman with Canadian citizenship with a minimum of grade 10.
She says once this initial pilot programme ends, the military will discuss the impressions of those involved and adjust future programmes to even better serve women who may be interested in the many trades, skills, and exciting opportunities the military has to offer.
LCol Raby says they are quite pleased with this initial pilot programme as all the 120 spots have been quickly filled with a waiting list.