By: David Pugliese,
Defence Watch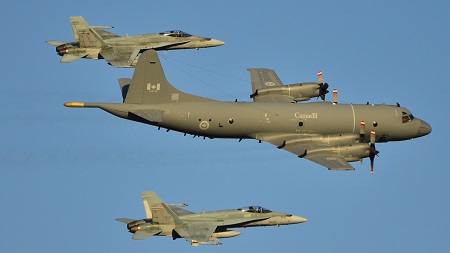 CP-140 Aurora escorted by CF-18 Fighter Jets. Vanguard Magazine.

Pat Finn, the Department of National Defence's assistant deputy minister for materiel, says the Aurora maritime surveillance aircraft will be around for a while. "We still have some years ahead as we add more capability to the aircraft," he recently told parliamentarians. "We're just finishing the life extension of the aircraft to 2030, which is a pretty significant capability investment."

A short time later, Defence Minister Harjit Sajjan signed a letter signaling Canada's intent to join the Maritime Multi-Missions Aircraft forum, along with other nations, to share force development resources and knowledge. The end result could be a new maritime patrol aircraft. Poland and Canada were invited to join existing members of the forum which include France, Germany, Greece, Italy, Spain and Turkey.

So what exactly comes next?

The Cooperation on Maritime Multi-Mission Aircraft (M3A) Capabilities is part of NATO's Smart Defence Initiatives. It has a M3A Specialist Team, which is a multinational force development working group that is currently chaired by Canada. The team's job is to examine technological advancements in the area of maritime patrol aircraft.

Department of National Defence spokeswoman Jessica Lamirande told Defence Watch the information gathered by the ST will be used to support the statement of requirement for Canada's next generation multi-mission aircraft. That initiative is included in the Liberal's defence policy but with the Aurora flying until 2030 the replacement is still a ways off.


In addition, the activities of the ST will also indirectly inform the advancement of other DND initiatives including those related to Arctic Intelligence, Surveillance, and Reconnaissance, Lamirande added.