By BRETT BUNDALE,
The Canadian Press
HALIFAX— Hundreds of people gathered on a jetty at Halifax's naval base Wednesday to bid farewell to 240 military members aboard HMCS Ville de Quebec as it headed to the Mediterranean as part of Canada's ongoing contribution to a NATO mission in central and eastern Europe.
Under pouring rain, family, friends and dignitaries waved goodbye as the warship sounded a fog horn and departed through a heavy mist in Halifax harbour.
HMCS Ville de Quebec in Halifax last December. Hundreds of people gathered on a jetty at Halifax's naval base today to bid farewell to 240 military members aboard the vessel. (ANDREW VAUGHAN / THE CANADIAN PRESS FILE PHOTO)
An RCAF CH-148 Cyclone maritime helicopter flies past a luxury yacht in Halifax on Friday, July 13, 2018. It departed for its first international deployment with the frigate HMCS Ville de Quebec today. (ANDREW VAUGHAN / THE CANADIAN PRESS)
Children in brightly-coloured rain boots waved Canadian flags and homemade signs, one saying, "Bye Mommy, see you later" while another said, "Bon Voyage Daddy."
Couples shielded from the rain under large umbrellas hugged and kissed goodbye before the six-month mission.
"It's overwhelming," said Vanessa Picard, standing on the jetty with her two young children after her husband departed. She called the experience of watching him sail off "surreal."
It's a familiar scene here at HMC Dockyard Halifax, as the commanding officer of the warship noted.
"It's really hard on families," said Cmdr. Scott Robinson, adding he was leaving behind his wife and two young children. "I'm not the only one. It weighs on you."
Several ships deploy from the east coast base every year, but the HMCS Ville de Quebec send off was a significant milestone for the Canadian military.
On board the frigate was a CH-148 Cyclone helicopter — the first international mission for the new twin-engine machine.
Defence Minister Harjit Sajjan said the state-of-the-art technology adds to the "tremendous capability" of the country's armed forces and its contribution to Operation Reassurance.
The retired lieutenant-colonel also said it "sends a very strong message of deterrence" to countries like Russia, which he said is starting to go against "a rule-based order."
Sajjan pointed to Russian actions under Vladimir Putin, such as the annexation of Crimea, its support for rebel forces in eastern Ukraine and Bashar al-Assad's government in Syria.
"It's something that we will not stand for," he told reporters following the warship's departure. "This is one of the reasons why Canada will continue to step up not only as part of NATO, but as part of a coalition."
He added that Canada "will not take threats lightly" and that the multinational, "fully combat ready" battle groups send a strong message.
Indeed, the commander of the HMCS Ville de Quebec said he expects to run training exercises with his crew to "keep our combat capability at a high level in case the government calls upon us to react to some sort of world event," Robinson said.
"We want to maintain our proficiency as much as we can at the highest level in case the government of Canada calls on us to do something."
Meanwhile, the Royal Canadian Navy commander called it an "exciting moment" for the first-ever Cyclone helicopter to be sent on a mission.
Vice-Admiral Ron Lloyd said Canada's contribution to the NATO mission will help "enhance regional maritime security and stability."
The Halifax-class warship HMCS Ville de Quebec is slated to relieve HMCS St. John's, which returns to Halifax later this month after a six-month mission.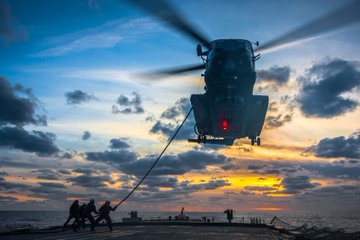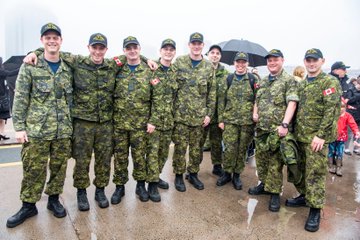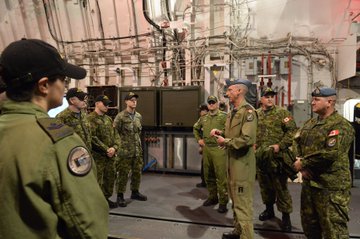 Today the first CH-148 Cyclone helicopter and aircrew embark aboard HMCS Ville de Québec for Op REASSURANCE,
@CanadianForces
support to
#NATO
defence and deterrence measures in Central and Eastern Europe.
#RCAF
#RCAFProud
The deployment of the Cyclone marks a major milestone for the 17-metre, 13,000-kilogram aircraft.
In January, the East Coast fleet of Sea Kings was retired after 54 years of service.
The Cyclone fleet will be tasked with surface and sub-surface surveillance, and search and rescue missions, while providing "tactical transport for national and international security efforts," according to the military. Its aluminum and composite airframe is built with lightning-strike and high-intensity radio frequency pulse protection.