By: David Baxter,
Global News
Military pilots from across Canada, and NATO allies have been earning their wings just south of Moose Jaw for over 75 years. To celebrate the aviation and military tradition, 15 Wing Moose Jaw will bring back the Saskatchewan Airshow.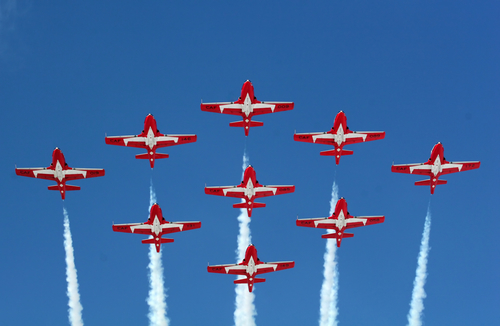 The Canadian Forces Snowbirds will be a main attraction at the returning Saskatchewan Airshow in 2019. The Airshow will take place at their home base of 15 Wing Moose Jaw.
Originally discontinued in 2005, the airshow will once again take place on July 6 and 7, 2019.
Wing commander for the base Col. Denis O'Reilly was central in bringing back the airshow. The Moose Jaw native said he wanted to inspire a new generation of pilots.
"My parents had a farm just off the end of the runway and I used to bike out the airport in the summertime, grab a coke and help the pilots wash their aircraft and maybe hope to get a flight," O'Reilly said.
Growing up in Moose Jaw's South Hill neighbourhood, O'Reilly routinely heard Snowbirds and other aircraft flying overhead.
"I just grew up hearing that noise all the time and just looking up in the sky and thinking that's something really cool men and women get to do and that's something I'll probably never get to do, not really realizing it's something available to all Canadians," O'Reilly said.
Today, one of those "really cool men" is Lt-Col. Mike French, commanding officer for the Snowbirds. Like O'Reilly, his aviation dreams began when he was a three-year-old at an airshow in Abbostford, B.C.
"I saw the Snowbirds flyover. I came out from under my blanket because the RAF Vulcan Bomber flew over and scarred me," French said. "I came out from under my blanket and looked and saw the Snowbirds flying and decided right then and there that's what I wanted to do."
The Avro Vulcan bomber which flew at the 1977 Canadian International Saskatchewan Airshow. Today, the only remaining flight worthy Vulcan only tours the UK.
French used to fly in the Saskatchewan Airshow prior to its cancellation. Now, he said the Snowbirds will be midway through their season when the July return comes around, making for a well-rehearsed show.

Formation flying can look seamless from the ground. Up in the air, French compared it to driving in bumper to bumper traffic at 300 miles per hour with vehicles beside, above and below you. That means pilots only have a about a two foot box to maneuver their planes in, leaving no room for error.

"What that means is a lot more room for trust, and we absolutely have to trust each other. We hold ourselves accountable to each other and we can't break that trust; plain and simple," French said.

There is still a lot of prep work that will have to go into the airshow's big return. Organizers anticipate more than 30,000 people will attend the weekend shows.

Military and civilian performers will be announced next year.

In addition to flight demonstrations there will be opportunities to get up close and personal with planes, a cabaret and a Saskatchewan micro-brewery will be chosen to brew a signature beer for the event.