In the days following the 2015 Federal Election, and the election of a Majority Liberal Government, there were congratulations pouring in from around the world for Prime Minister-Elect Justin Trudeau.
One of those letters came from the Chairman of Dassault Aviation, Eric Trappier who in his congratulations letter pitched the Rafael fighter jet as a potential replacement to Canada's aging fleet of CF-18s. While it is considered by many highly unlikely that Canada will buy a non-America fighter jet - many see the Dassault Rafael as a contender. Many, including me, see a built in Canada Rafael as the ideal replacement. It is cheaper than the F-35, combat proven, and has a dual-engine; something that is essential when operating in remote locations like Canada's arctic region.
While the Rafael is a little more expensive than purchasing new(er) F/A-18 Super Hornets from Boeing, the Rafael is a new aircraft, and Boeing will only pitch the F/A-18 to keep its assembly line open. If the assembly line is closing, that should be an indication that the aircraft is out of date.
Dassault has already agreed to export the Rafael to Egypt, Qatar (sale not final), and India (sale not final). They are hopeful that next year they will also sell to Belgium, Switzerland, and the United Arab Emirates.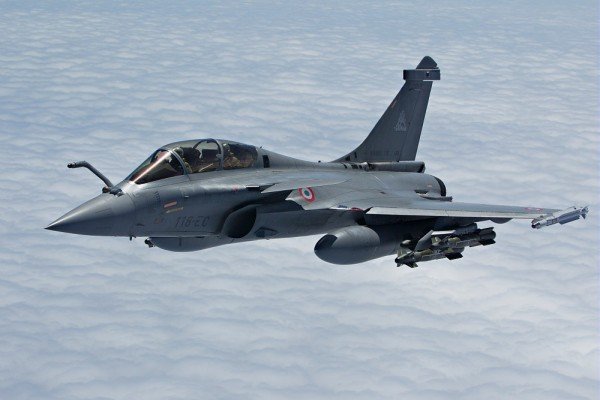 A French Air Force Rafael in action over Libya in 2011.
When the RAFALE programme was launched, the French Air Force and French Navy published a joint requirement for an omnirole aircraft that would have to replace the seven types of combat aircraft then in operation.
The Rafael aircraft is now able to carry out a very wide range of missions:

- Air-defence / air-superiority;
- Anti-Access/Area Denial;
- Reconnaissance;
- Close air support;
- Dynamic Targeting;
- Air-to-ground precision strike / interdiction;
- Anti-ship attacks;
- Nuclear deterrence;
- buddy-buddy refuelling.

These requirements were taken into account from the start of the RAFALE's development, leading engineers to invent an aircraft which goes beyond the needs of each type of mission.

Versatile and best in all categories of missions, the RAFALE is a true "Force Multiplier".

The RAFALE has exhibited a remarkable survivability rate during the latest French Air Force and Navy operations, thanks to an optimized airframe and to a wide range of smart and discrete sensors. It is slated to be the French armed forces prime combat aircraft until 2040 at least. That would give Canada at least 20 years of a combat ready aircraft - and it will be capable to fly well past that date.
Thanks to its outstanding reliability, the RAFALE has lower maintenance costs. Its unique maintenance concept results in a lighter scheduled maintenance plan with less man-hours and a smaller number of maintenance technicians.
For all its service life, the RAFALE does not have to leave its operational base for maintenance purposes. It does away with costly and time-consuming airframe and engine depot level inspections required on other types of fighter aircraft, with "shop replaceable units" (SRUs) the only items to be shipped for maintenance / repair.

Here is the original article about Dassault's pitch to Trudeau.

Below Written by Pierre Tran of defensenews.com

PARIS — Dassault Aviation Chairman Eric Trappier said Thursday he had written a letter of congratulations to Justin Trudeau, the newly elected Canadian prime minister, and pitched an offer of the Rafale fighter if Ottawa pulled out of the US F-35 program.

"We have to wait and see what he decides now he is in office," Trappier told the association of aerospace journalists. "I wrote a letter to congratulate him and to remind him that if the F-35 were canceled, the Rafale would be potentially proposed." The letter was sent in the last two days.

Dassault sees India as the next export client for the Rafale, he said.

We're on the right track, discussions are going well," he said.

The French aircraft builder hopes a deal for 36 Rafales will be sealed with India by the end of the calendar rather than the financial year.

"We're coming fast to the end of the calendar year but I remain hopeful for the end of the calendar year," he said. "But I am a major optimist."

Negotiations have moved relatively swiftly on a government-to-government level, and there is agreement on an industrial offset with local Indian partners to comply with the Make in India drive. Under the proposed deal, Dassault would be free to choose the local partner rather than accept the government's pick, although New Delhi will likely ask for its right to approve the selection, he said.

Dassault could also set up joint ventures in India, which could help the Rafale gain additional orders, as the Indian Air Force is keen to acquire 126 aircraft rather than settle for 36. Russia is also active in the Indian market.

Qatar, which in May signed an order for 24 Rafales, has still not paid a deposit for the €6.3 billion (US $7 billion) deal but the payment is in the process of being made, he said.

Dassault does not expect any "specific announcements" at the upcoming Dubai Air Show, he said. Dassault has sold Mirages in the Arabian Gulf, an important region for fighter sales, and hopes to sell twin-engined Rafales as a replacement.

Talks are continuing with the United Arab Emirates, which is engaged in combat in Yemen, with the UAE Mirages being flown in that conflict, he said. Dassault is getting close to local industry to help provide support. Egypt and Qatar are the two foreign clients of the Rafale, and the order from Cairo surprised Dassault as the first customer.

Belgium and Switzerland are among long-term prospects, he said. Dassault opened a Belgian office last year and is seeking local partners for an expected fighter competition for when Belgium replaces the F-16.

Switzerland, which canceled a pick of the Saab Gripen, still must eventually replace its F-5s and also the F-18. The family-controlled aircraft builder sees the multirole Rafale as fitting the requirements for replacing two types of aircraft.

Dassault expects a "snowball effect" in foreign orders and the company hopes to sign more deals in coming months. But it looked less likely a fourth client would sign this year, he said.

The company, in anticipation of further export sales, has agreed with Tier 2 subcontractors to increase output by the end of 2018 to deliver three aircraft per month from the present one per month, with the line closed for the month of August for an annual holiday.

"We're taking a risk, a measured risk," he said. If there were a lack of foreign orders, then production will return to the current production rate.

A speeded up dispatch of the first six Rafales for Egypt came out of the slots intended for the French Air Force, which is keen to see a return of delivery as the service is forming a second nuclear squadron, as confirmed in the revised multiyear budget law, he said.

Malaysia is another export prospect, Trappier told Defense New. Low oil prices weakens the budget for Kuala Lumpur, but "it will be a political decision."

On the proposed European medium-altitude, long-endurance (MALE) drone, Dassault would accept an appointment of Airbus as prime contractor.

"It could be Airbus, there's no problem for us," he said.

A key factor in the project is the mission payload with electro-optics, radar, and datalink, he said. Thales is a key supplier of these systems.

Spain and Poland have shown interest.

Laurent Collet-Billon, head of procurement office Direction Générale de l'Armement, told the defense committee of the National Assembly lower house Oct. 7 that Germany will hold just over 30 percent of the European MALE UAV project, with France, Italy and Spain each holding 23 percent. A technical study contract is due to be signed by March.

Airbus, Dassault and Finmeccanica pitched the MALE UAV project to France, Germany and Italy, and French Defense Minister Jean-Yves Le Drian has backed the plan.

Le Drian "more than helped" on the Rafale exports, Trappier said. There were geopolitics, a fading US influence in the gulf, direct and indirect support from the French armed forces, and the president's influence. A 20-25 percent fall in the euro/dollar exchange rate also helped.

"There is the minister who works the relations, on which Jean-Yves Le Drian served well," he said. Once the French companies saw the close bilateral ties, they could focus the sales effort.

"The minister does not interfere in the sale, he leaves that to us. That's fundamental," he said.

Dassault is happy to see Thales improve its profitability and welcomed the acquisition of a US cybersecurity firm, a key area for the defense electronics company, he said.

"Thales is a company that we follow with close attention, and in which we will stay for a long time," he said. Dassault is the industrial shareholder in Thales and is pleased with its investment in a high-technology company with a large international reach.

On Wednesday, Thales reported a 74 percent rise in orders in the July-to-September quarter, with the defense and security orders jumping 43 percent. The third quarter sales were stable at €2.79 billion compared with €2.72 billion a year ago.