Article by:
Philippe Cauhi
GATINEAU – On Friday, December, the 11th, Team Spartan Canada brought for a three hours stop and a press conference, a Peruvian Air Force C-27J Spartan to the Gatineau-Ottawa Executive Airport on its way to Peru.
This event took place exactly one month before the deadline to submit bids to Publics Works and Governement Services Canada to supply the Royal Canadian Air Force (RCAF) with new fixed-wing search and rescue (FWSAR) aircraft. The cost of the program is set at CAN$3,1 billions including a 20-year maintenance contract.

Turin Italy based Alenia Aermacchi, a division of Finmeccanica is leading Tean Spartan which includes :
General Dynamics Mission Systems Canada : supplier, integrator and in-service support (ISS) of the state of the art mission system based on the one found on the RCAF CP-140 Block III aircraft ;
IMP Aerospace : aircraft Canadianization by modifying the C-27J baseline aircraft into the Canadian
FWSAR, support to Alenia during initial delivery, installation of the mission systems, flare launchers,
EO/IR turret, search radar and interior design modifications ;
L3 Wescam : MX-15HDI electro-optical/infrared turret ;
DRS Technologies Canada, a Finmeccanica company : courseware and training aid ;
Esterline CMC : CMA-9000 Flight Management System and Flight Bag
FLYHT Aerospace Solutions : AFIRS 228S SATCOM Iridium satellite communications ;
KF Aerospace : maintenance, supply chain and repair engineering ISS, and pilot and maintenance training management support ;
Rockwell Collins : ATC radios ;
Finmeccanica Selex-EX : Seaspray 7500E search radar ;
Aerodyne : wide observer windows and pressurized flare launchers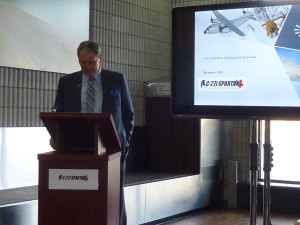 Steve Lucas.
Photo: Philippe Cauchi.
Steve Lucas senior representative for team Spartan and former chief of the Air Staff of the now Royal Canadian Air Force from 2005 to 2007 was flanked by the two C-27J test pilots, Marco Venanzetti and Gianni Ammoniaci who left Turin on thursday afternoon on their way to Peru and the Peru Defence Attaché in Ottawa, Colonel Alejandro Humberto Marusic Caceda, attended.
Mr. Lucas started the press conference by stating that the C-27J, the aircraft of Team Spartan in the Canada's Fixed Wing Search and Rescue (FWSAR) RFP whose bids are due for January, the 11th, 2016 , is 'An exceptional aircraft beyond expectations but still within reach of Canada'.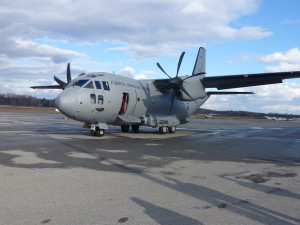 Alenia C-27J Spartan.
Photo: Philippe Cauchi.
In spite of the fact that the C-27J offered to Canada is based on the same configuration that has been supplied to the US Coast Guard, the US Army Special Operations Forces and the Royal Australian Air Force, it will be modified by the Canadian industry in order to 'make this aircraft right to fulfill the Canadian FWSAR mission'.
The FWSAR will be replacing the six aging De HavilLand CC-115 Buffalo based in Comox, British Columbia and fourteen Lockheed CC-130H Hercules based in Winnipeg, Manitoba (4), Trenton, Ontario (4) and Greenwood, Nova Scotia (3). This process which began more than ten years ago aims to replace theses two fleets of aircraft in service for more than 50 years.
According to Steve Lucas, the C-27J has a rapid response time thanks to its exceptional speed, size, endurance and manoeuvrability enabling it to reach austere and remote locations including theses in the mountains as well as in the far North and the far sea. This way, the C-27J is only aircraft in its class far enough capable to respond by its speed to SAR incidents to the limits of Canada vast SAR area of resposability.
The Canadian RFP underlined Steve Lucas is not a simple replacement on a one-to-one replacement basis of existing aircraft but a very complex set of requirements of thousands of pages requesting that the contender's aircraft be able :
To respond to three simultaneous SAR incidents in Canada's three different SAR regions : Victoria SSR, Trenton SSR and Halifax SSR ;
To reach the most remote Canadian location in the shortest time ;
To achieve a 95% availability rate for at least one aircraft in each SSR and a 70% rate for a second one ;
To reach 2674 points in Canada where incidents occured in the last five years.
The size of the cabin of the Spartan is a big plus acording to Mr. Lucas. With a heigth of 2,60 meters, a width of 3,33 meters, and its high floor strength, (4,900kg/mload capability), the cabin allows a lot of activity of moving around in the back, the SAR technicians bringing a lot of equipment.
It is divided in three sections : the mission system section, the storage section and on the ramp, the personnel section.
Photo: Philippe Cauchi.
The C-27J Spartan is not only an aircraft capable to bring the first respondents to site but also to land on short strips and bring back everyone.
Compared to the Buffalo, the C-27J flies faster, further and is pressurized. For this reason, the Buffalo can be used only in the Victoria Region. On top of that, the Spartan have the landing and take off performances of the Buffalo in spite of the weigth of its complete mission system and longer endurance.
Team Spartan C-27J is based on the same configuration of the aircraft supplied to the US Coast Guard which is looking for systems similar to the one installed on the one offered to Canadian Forces. This means opportunities for Canadian suppliers if Canada picks the Spartan.
Steve Lucas recalled that the C-27J is a modern military transport aircraft with an established production line, mature production processes and excellent operational performances.
He concluded by stating that the Spartan is an affordable solution to Canada SAR needs 'very within reach of Canada with no need to compromise on response time, geographical coverage, crew comfort and cockpit visibility' and 'Maximizing Canadian participation and minimizing program risks'.
An advanced derivative of the Aeritalia G222 first flown in 1970, the C-27J is a tactical military cargo aircraft able to perform a variety of missions including transport of troops, logistical resuply, MEDEVAC, air drop operations, paratroopers launches, humanitarian assistance, oil spill relief, fire fighting and SAR.
The C-27J featured the same engines and propellers than the Lockheed Martin C-130J Hercules as well as a common avionics architecture.
Having obtained its Military Qualification Certificate, the C-27J is also airworthy to civil standards with certification from EASA and FAA.
Certification of the C-27J Spartan included cold weather flight testing in Finland.
More than 82 C-27J had beeen ordered by the air forces of Italy, Greece, Bulgaria, Lithuania, Romania, Morocco, Mexico, Australia, Chad, Peru, Slovak Republic, an undisclosed African customer as well as the US Army Special Operations Command and the US Coast Guard.